One of the deadlines for my Hillary sculpture is for an armature. Sculpey needs a skeleton to adhere to, as when it bakes it actually gets softer before hardening to its final consistency. A plain old metal household hanger suited my purpose. I also found a dollhouse chair and box which will become the Oval Office desk when I get done with it...
One of the judges mentioned that the angle of the final photo of my sculpture will be very important, since I want to emphasize her 'cankles' as well as a maniacal grin.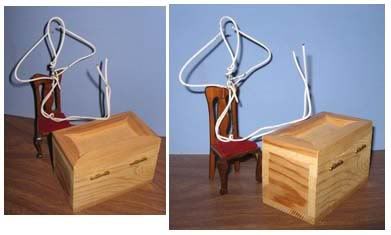 It will have to be titled "HIllary's Revenge" or "Why Hillary Aspires to the Oval Office" since who knows if she will actually make it there?