Even with the holidays looming, I've been wanting to start my next sculpture. I couldn't stop myself when my boyfriend made a early Christmas gift for me-- a wooden sculpture stand!
I'd learned from my previous effort that making the head and body as one unified piece of sculpey presents some limitations, especially if your armature is very stiff. This way, I am sculpting the head on a dowel, attached to a base, so both my hands are free to work. Then I can attach the head to the body with ease.
(John sneaked outside to take a photo of me at work, unawares, on his back porch)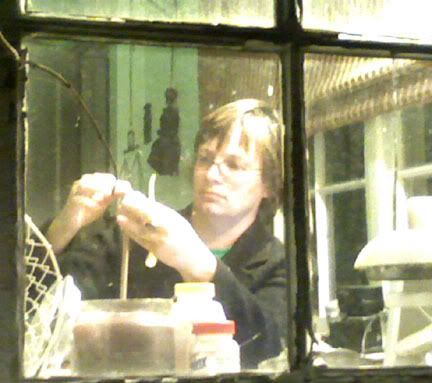 I'll post photos of my next sculpey subject ( she's not political this time!)
as it gets further along.
What a difference a year makes...last year I barely knew how to use Photoshop or had any experience with sculpting (except as a spectator sport!).