Yesterday, I drew caricatures at a Valentine's Day 'Afternoon Social' at an assisted-living residence. The subjects and their families sat for me while being serenaded by a violinist! Both the music and the faces were an enjoyable change of pace for me, as senior citizens are usually a very small portion of my live work...
This dear old lady and her daughter told me that they had hung up my previous drawing of them (from two years ago), framed front and center in the mom's room! :-)
The shadow on the drawing in this photo was a puzzle, until I realized the mat I sometimes use on my easel to frame my paper, was hanging open under my light. This lady had such a great smile!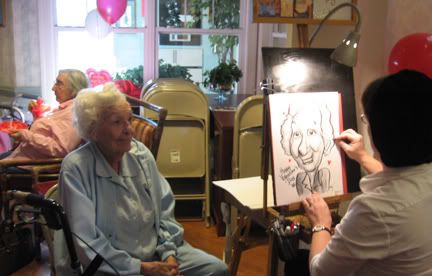 Finally, here's yet another sweet old lady. She was very talkative!
I think only two elderly gentlemen attended the social... this affair definitely had a delicate ladylike air about it, right down to the chocolate fountain!