Some of my favorite, most-used art materials are the Prismacolor brand of pencils, artstix and markers. I've loved using them for their translucent layering capabilities since before becoming a caricaturist. Thanks to Joe Bluhm's blog, I just found out about an art competition that Prismacolor is sponsoring; entries can be of any kind of art as long as they are made with Prismacolor materials. There also needs to be a short artist's statement with each piece. There's some motivation!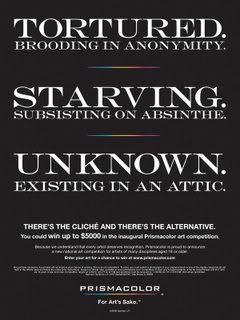 See www.prismacolor.com for more information. The deadline for entries is May 31, 2008.

My drawing table has all my pencils and markers arranged in mugs, waiting for inspiration, but sometimes it's hard to get out of a 'caricatures/portraits' mindset.
I was mentally blank as to a subject for such an open-ended contest, then my friend Marlo (she's updated her blog, folks!) asked, 'What do you LIKE to draw?'
I replied, 'People, of course!'
She said,'Draw what you're passionate about. Draw what would be FUN for you..."
That led me to thinking, it might be interesting to do 'micro'portraits' of the worlds within faces... to see if I can express personalities by only using portions of features. Here is the first attempt-- it's all colored pencil with a bit tiny bit of marker for emphasis.