Yesterday was my fourth appearance at the annual Baltimore Orioles Fanfest, a full day of baseball events such as autograph signings, memorabilia shows,
on-the-field happenings, etc. held at Camden Yards. Oh, and live caricature artists, too! Rick Wright and Co. have been drawing at Oriole games and events for 21 years now, and it is a fun gig. (See Rick's blog in my links list.)
Here are some of my drawings from a busy day...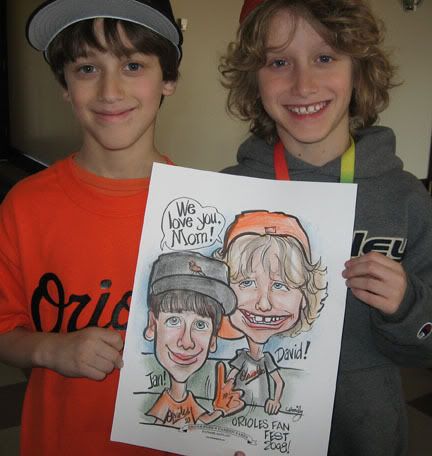 Two brothers with vastly different fashion senses!
A lady baseball fan!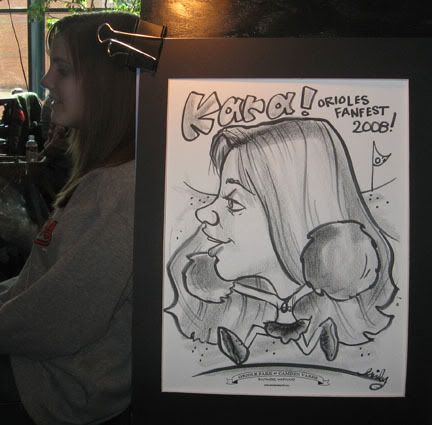 Rick's crew also offer BW profile drawings at a lower price than front color ones. It's the only time I get any experience doing them, so they are actually a bit harder for me to draw...
Here's a couple who had never gotten a caricature before! They seemed pleased with the result.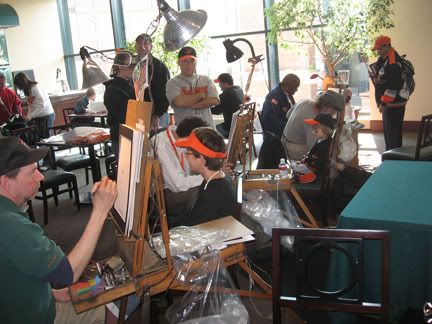 Here's the view from my easel...Gary, Rick and Jerry, busy drawing away.