I've just gotten home from one of the most enjoyable NCN conventions I've ever attended. The camaradery of so many caricature artists together in one place is always inspiring, but this con had a particularly friendly atmosphere that everyone remarked on.
So, lots of photos are coming.
These are from the ballroom where we all drew night and day.
(I never left before 4 am all three nights, and each morning managed to get up at 9 for a free hotel breakfast! And they had a free happy hour, too!)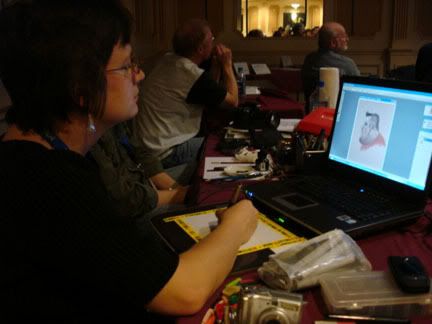 I'm hard at work on a digital caricature in this photo, taken during Joe Bluhm's workshop.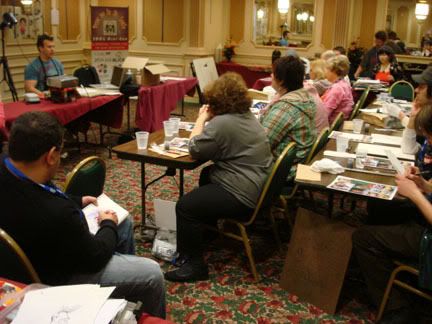 That's Tom Richmond leading his inking workshop. No one spilled any, to my knowledge!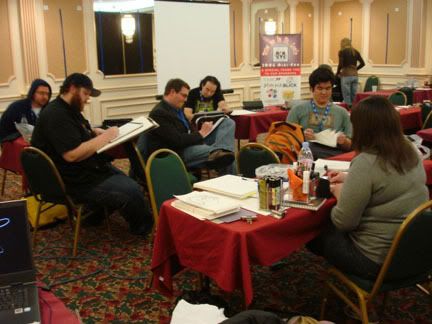 Another group of artists drawing, drawing drawing
These are my new friends Colin Harris and his bride of two months, Martha..it was their first convention. People asked them if the con was their honeymoon!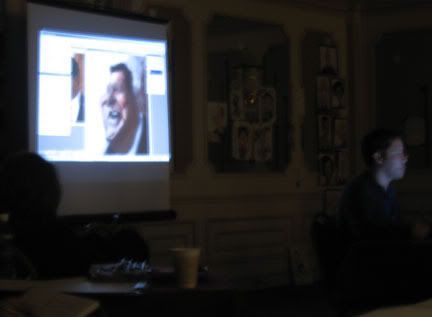 Court Jones did a workshop on the technicalities of painting a digital caricature. I learned so much from this one! He drew John Goodman in an hour, who happens to be a St. Louis native.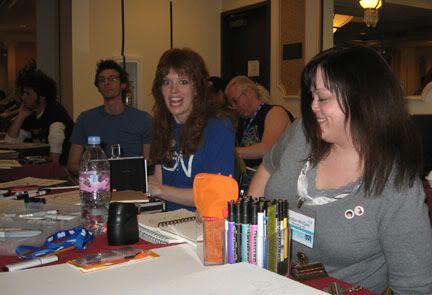 Here's Colin, Marlo Meekins and Kristen McCabe at their marker-strewn work area.
This is a wider view of where I mostly sat for the duration.
Pat "Tori Amos" Harrington...I met him at my first con five years ago--he and his drawings only get screamingly funnier with time!
Marlo---I met her three years ago at a con, and she and her drawings only get more beautifully bizarre with time!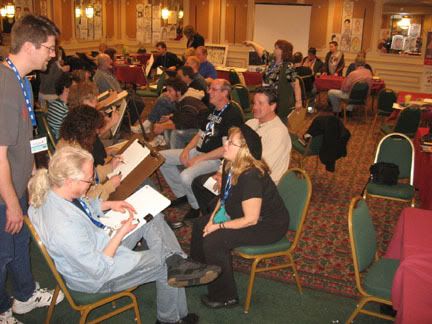 During the party-artists competition, we were heckled by our colleagues, with all the tired old questions/comments we hear way too frequently as caricaturists...
"Are you an artist?" "Why are you drawing a mustache on her?" "That doesn't look like him!" " You draw characters, right?" and worse....
There hasn't been any substantial snow here near Philadelphia, but St Louis got socked with it while we were there.