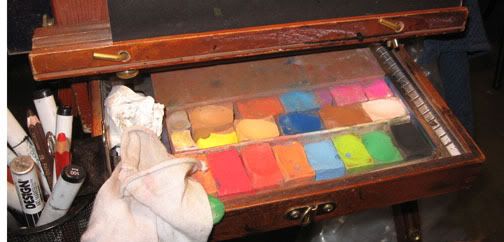 These are lecturer's chalks. They've been hidden in a drawer in my studio, languishing for several years, ever since I abandoned them for Prismacolor artstix. Somehow they called to me, and I decided to bring them to the ballpark-- and see if I could switch gears with my color application.
They are applied by wearing a cotton glove, which you then designate one finger for a family of colors. They transfer to the paper with a quick swipe. You do get a nice pastel effect, but the main drawback is that they are gritty and can be messy on the artist. My actual motive, I guess, is to see if what I have learned about color through using artstix, will cross over to other media when used live.
My camera battery was unexpectedly dead, so I didn't get my own photos of customers--however, my sister-in-law Nikki happened to come by ( with a camera---AND water ice for me, on the hottest night of the year so far---thanks Nikki!) so when she emails them to me, I will put them up.