Yesterday, my event was a beautiful young lady's wedding shower. Her friends and family enjoyed playing "Who knows the bride best"---and then the bride was quizzed on how well she knew her groom! All the while, I was drawing people by the Christmas tree.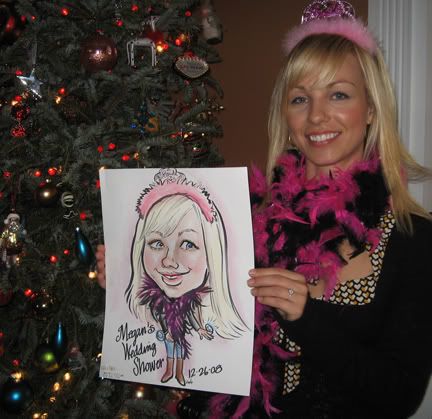 As the menfolk filtered in later, I ended up drawing them too (and the family dog!) but I don't have photos. They had me draw the dog, an adorable Bichon-Shih Tzu, in a basball cap and t-shirt! :-)
My client graciously sent this feedback this morning:
We absolutely LOVED Emily - her artistic abilities are amazing! She did caricatures for everyone at the shower; including husbands, boyfriends and pets! Everybody loved their caricature and Emily herself fit right into our bridal shower atmosphere. I would have absolutely no hesitations in hiring her again and I highly recommend her to anyone considering this type of entertainment. Thank you so much, Emily - all the best to you in the new year!
Thank YOU for having me at Megan's special day!
Update 12-27-08
: The client shared her photos with me via Facebook. Here's one of their cute little doggie sitting for his caricature!