The last day of my fair was filled with light-hearted happenings...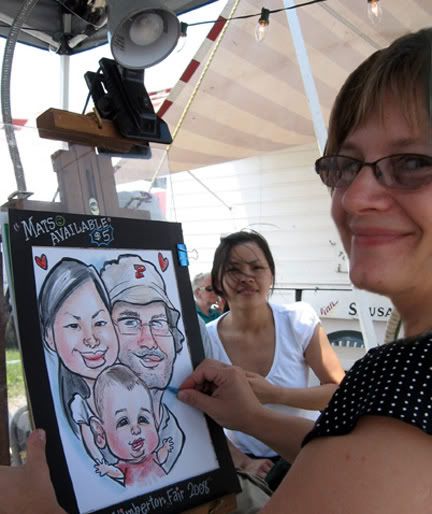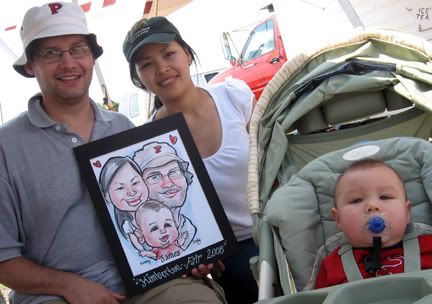 My first faces (above) were this adorable family sitting for
their
first caricature...
Then, a repeat customer and his rather enlarged family (below) arrived for a drawing. I had caricatured them several years ago when there were only three... He certainly had the best eyebrows of the day! Cheerio and merci beaucoup!!
Once again
Marlo
joined me, and drew her special brand of caricatures: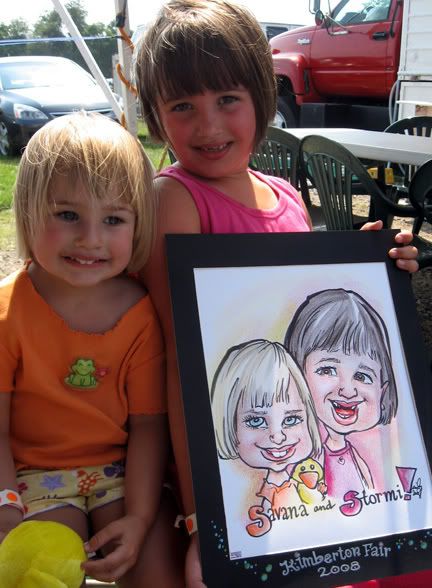 These two little munchkins (above) had cute choppers! The mom told me the older one was thrilled to have lost her baby teeth, so it was fitting that I showed that lack in the caricature. (And the little one was thrilled I included her beloved duck!)
This little redhead's mom requested a pirate theme, which was enormous fun to draw, plus I don't think I ever did that for a baby girl! (Marlo contributed the tattoos!)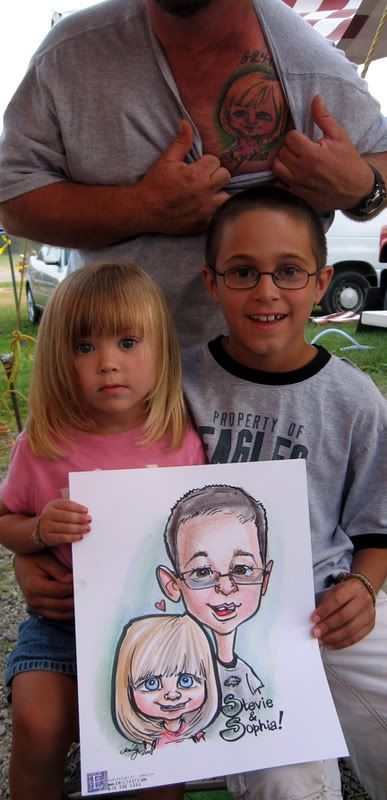 Speaking of tattoos, these siblings are emblazoned on their dad--literally! I've drawn both kids in past years and he has had my actual caricatures tattooed on him!! !! !!
His son is on his arm as a toddler. His new one, which I hadn't seen, of his daughter, is on his chest, proudly displayed here-- along with the real-life kids and this year's version by me.
As I was drawing this baby girl, I kept thinking she reminded me of someone or something...Marlo commented that my version of her was very
Chuck Jones
-ish, (whose work I loooove) and I think she's right. Boy, my job is just too much fun!!!
Lastly, this young man waited in the long line that lasted most of the evening, just to get his caricature, and told me he was an artist too. I told him to draw every day, that's the key!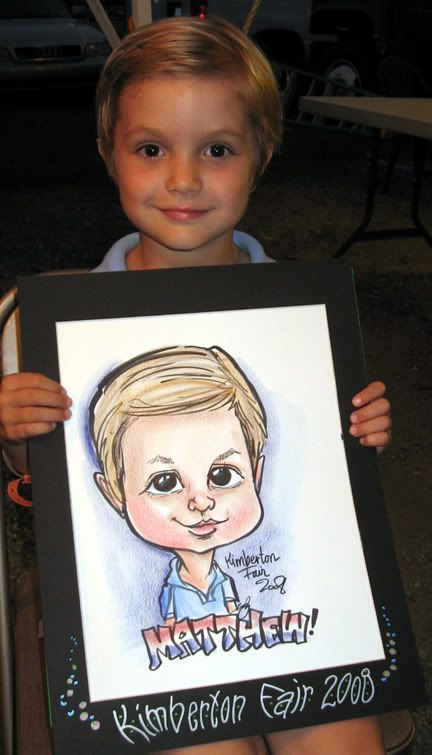 Many fair-goers were asking what other festivals/fairs I work, and I told them this particular fair is actually the only one I still do, now that my focus is on corporate/private events and commissions...hopefully the many business cards handed out and drawings completed this week will bring in more faces and fun! :-)