Another happy couple getting hitched--today!
This was commissioned by the groom's mother, as a gift presented to the couple at their rehearsal dinner last night. The wedding colors are chocolate and latte, mmmm. This was done completely via email, and the client had it printed at Kinko's (I did provide written consent to have it printed for personal use.) I also recommended putting it in a 'signature mat'.
Congratulations, Carmella and Ben!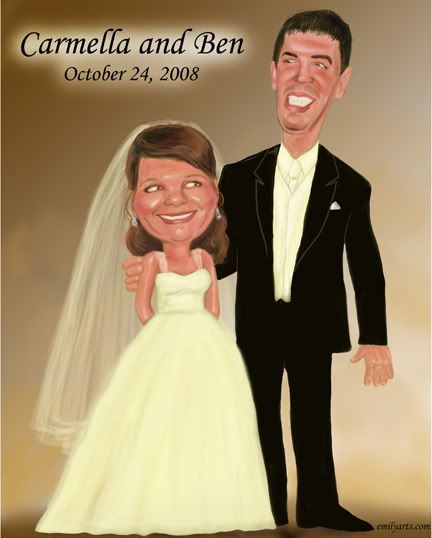 Update 10-27-08: I just received this email from my client!
Just wanted to let you know that everyone, especially Ben and Carmella, LOVED the caricature. I gave it to them at the Rehearsal Dinner, then we had it at Reception also, and everyone signed it for them.
Thanks again for all your work on it. I will recommend you to anyone I know who needs one.
Thank you!! :-)