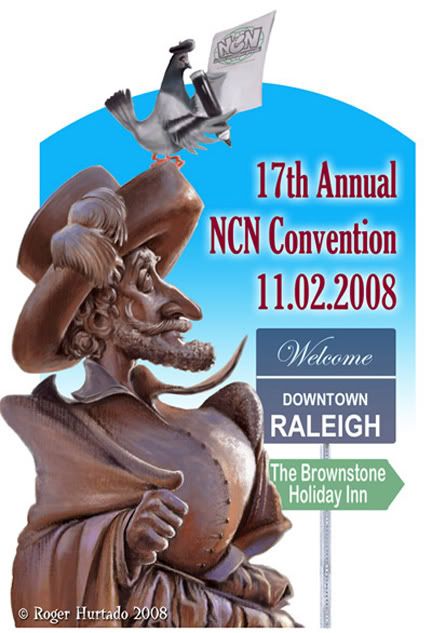 Every year, I spend a fun-filled week with almost 200 other caricature artists, and learn from them in so many ways. This year is no different! It's also being held within a reasonable driving distance, so I am able to take my compressor and airbrush with me. The above image is a digital painting by my friend Roger Hurtado, who
still
doesn't have a website or blog....
Here are the seminars over which I am drooling with antici-pation:
Jan Op de Beeck
"Draw Along with Jan" In this small workshop focusing on basic distortion, everyone will draw along with Jan, while he draws and comments on what he is doing and why. At the end, everyone will share and discuss their work.
Stephen Silver
"Drawing from "LIFE" with Stephen Silver" Stephen will cover the importance of drawing from life and learning how to caricature what you see. Participants will draw from a live model, while covering some basic exercises that will be useful throughout everyone's drawing career.
Tom Richmond
"Caricatures in Humorous Illustration" In his seminar, Tom will cover how caricature skills can be applied to freelance illustration work.
Court Jones
"Digital Painting Workshop" Court's smaller workshop will focus on digital painting techniques as applied to caricature. He will show how to customize and set up Adobe Photoshop to produce natural looking paintings and illustrations. Then the group will paint a caricature in a classroom type environment with Court providing individual feedback. Each attendee must have their own laptops with Adobe Photoshop and Wacom tablet.
Jason Seiler
"Caricature 101" Jason will show samples of students' work from his Schoolism class, share his critiques, and show the progress his students have made. He will also do a caricature demo starting off with thumbnails and the stressing the importance of thumbnail sketching.
Joe Bluhm
"Advanced Caricature for the Live Artist" Joe will demonstrate live caricature techniques and discuss advanced theory. Helpful to both retail and party artists, he will cover everything from the one-minute sketch to a 15 minute caricature. This class is designed for those comfortable with taking their craft to a new tier of personal scrutiny and quality.
Meaghan Kent
"Legal Matters for the Artist" Meaghan Kent, associate attorney at Venable LLP, will lecture on legal issues that affect artists. Topics such as copyright law, trademarks, artist contracts, and issues regarding work for hire, artists' rights and royalties arrangements will be addressed. She will also discuss the nature and status of the current Orphan Works Bill being considered in the U.S. Congress. The last portion of her seminar will be reserved for Q & A, so come prepared with questions you would like to ask.
I'll be blogging from the convention once I get there!