The National Caricaturists' Network's final convention (next year, we will become the
International Society of Caricature Artists
, a name which better reflects the scope of the organization now) culminated in an art auction/awards banquet. The auctioned art was previously done studio and/or published caricatures by the likes of Tom Richmond, our guest speaker Ismael Roldan, Court Jones, and new Golden Nosey winner, Jason Seiler.
Here are some of my treasured visual memories of the evening:
Myself and my dear friend Marlo, without whom I would not be where I am in life. I have learned so much from her, and enjoyed her company immensely, whether we are laughing at life (or annoyed by it).
Below are our tablemates...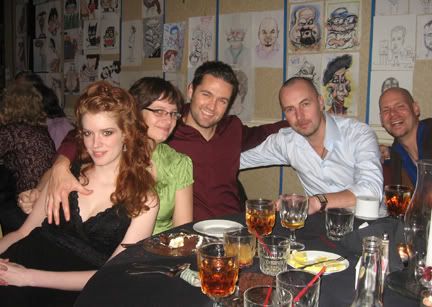 Marlo,myself, Mike Giblin, Niall O'loughlin, and Adam English (singer/songwriter of wicked parodies for the caricaturist, who performed both at the opening icebreaker and at the awards dinner).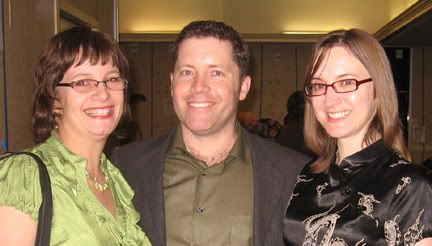 I am also indebted to this man, Court Jones. Between his online forum contests, his seminars at the convention, and just hanging out with him and his beautiful ladyfriend Debbo, I consider myself lucky!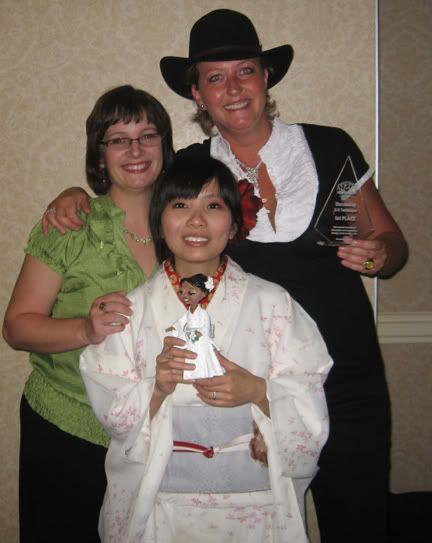 I sat with these ladies during the day of the US election, when we learned Obama had won. :-) Johanna Veerhenhuis and I sculpted, and Emi Sato worked on emormous painted caricatures. Johanna took a very-well deserved 1st place in the 3D category with her exquisite sculpey rendition of Emi ( who is Jan Opdebeeck's new wife.)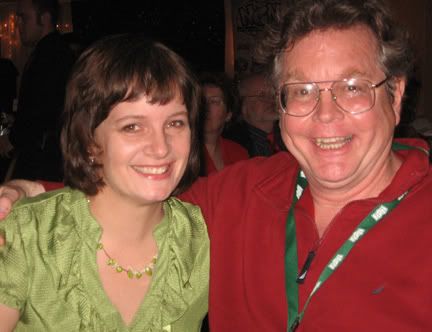 Jeff Redford, from LA, is just a joy to be around. Although he did not sculpt anything this year, he always does the calligraphy on the award scrolls and shares his wit with with all in earshot. Below is the quick sketch I did of him: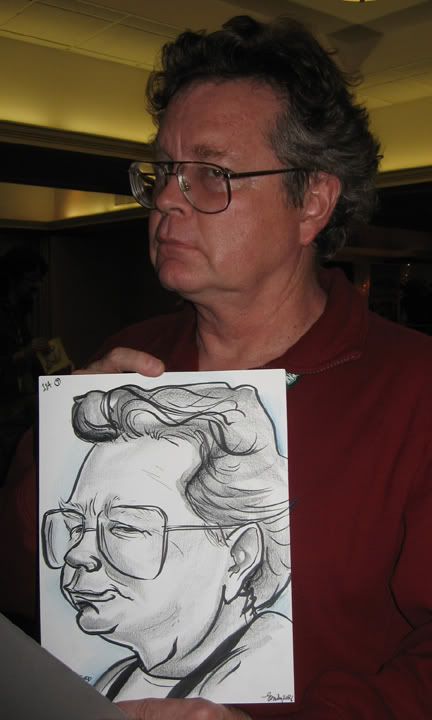 This is one of the funniest people at the con or anywhere, Bob East. Marlo and I have sat with him at every Likeness competition for the last several years, and we are always in stitches. So this year, he was the subject of my first airbrush piece at a con.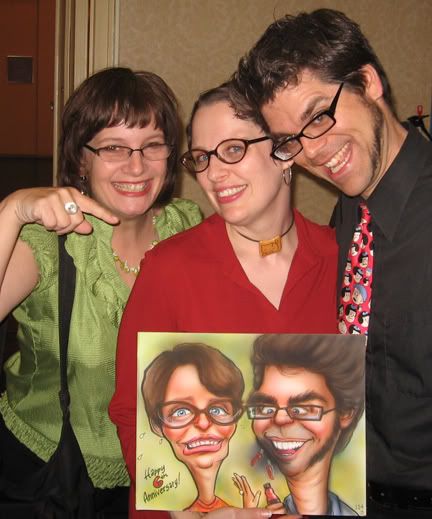 This is John and Jill Sprague with another airbrush piece I did. I was planning on drawing them anyway, but when I found out it was their 6th anniversary, it was the icing on the hot pepper sauce...(!?)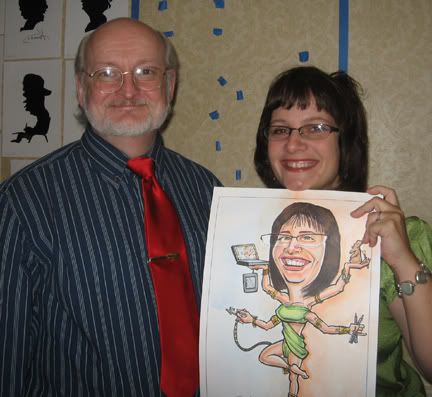 I am never a popular subject to be drawn at cons, (neither is Court Jones) mostly because we have more subtle features. However, this year, I got two drawings. Paul McCall surprised me with an on-the-sly drawing of me with all my various media!!! I love it!
I also received this very cool watercolory-almost-abstract drawing from Karel Opdebeeck, of the very talented family of Jan Opdebeeck. Karel is his brother and he also brought his son Klaas ( Jan's nephew)... ( below)
...whom I airbrushed. Klaas received alot of caricatures!!!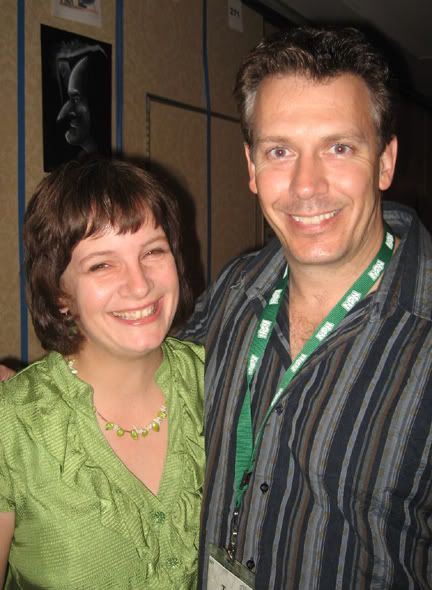 Myself with Tom Richmond. Always a voice of merit and reason in the NCN, he had a great seminar on how to market caricatures in commercial art. He also has a lengthy post today on his own
blog
, which sums up better than I can, the importance of these caricaturist get-togethers.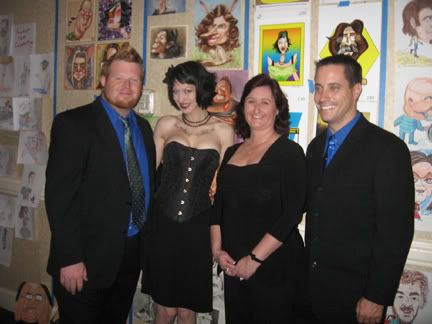 Lifelong friendships are made at these conventions. Here are some new and old friends: Sean Gardener, his lady Sheina, and Silver Nosey winner Glenn Ferguson and his lady JoAnn.
This gentleman, Wade Collins, was at his first big convention, having attended a mini-con in 2006, where I met him. I was delighted to see he has come a long way since then!
Here are a bunch of crazy award winners: Nate Kapnicky, Brian Oakes (Bronze Nosey) and Andy Urzua!
Finally, my good friend ( and past Golden NOsey winner) Roger with a bunch of hot older ladies!!!