Click to see larger image.
While in Raleigh, NC, for the National Caricaturists Network convention two weeks ago, we drew several subjects for the Likeness Competition. This is usually held on the first night of the convention proper, and consists of all the competing artists (183 this year) drawing from projected slides. Volunteers hang the results on the walls, which are then voted upon. (Joe Bluhm was the winner this year for this category.)
Here we are, drawing away....I am in this picture, try to find me! :-)
Below is the hard part...voting!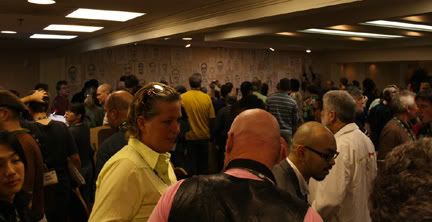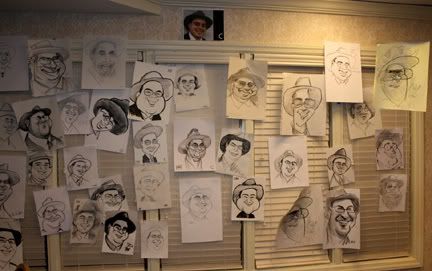 One of the subjects, unbeknownst to us, was a local columnist who writes for the Triangle Bizjournal. Since he was doing a piece on our convention, he decided to use my drawing of him for his column instead of his usual photograph! It was published on Friday. My good friends Roger Hurtado and Sheina Thibeault were also pictured in the article, posing and caricaturing, respectively!
I'm very appreciative that Chris used my drawing, and that his staff made sure I was provided with the article. Oftentimes during events, my caricatures are photographed by various media and I never find out if/when/where they are used.