Another fantastic convention has drawn to a close. The banquet was the emotional high point, as many deserving winners received awards. I am proud to count quite a few as friends. Congratulations to the Nosey winners,and everyone else who won!
Here's our traditional "girly pose" we do every year, in our finery!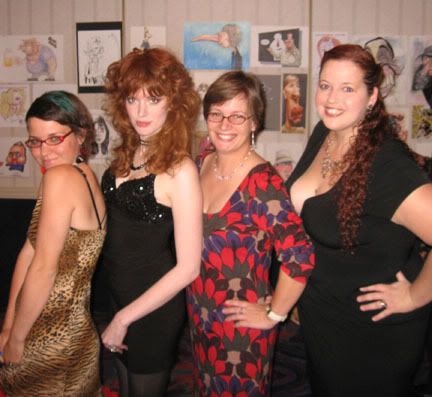 Sam Gorrie, Marlo Meekins, myself, and Celestia Ward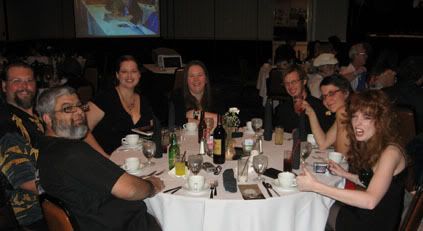 A view of our lovely and talented table: (from left) Rob Sundin, Lar DeSouza, Celestia Ward, Leesbat, George Anthony, Sam Gorrie, and Marlo Meekins...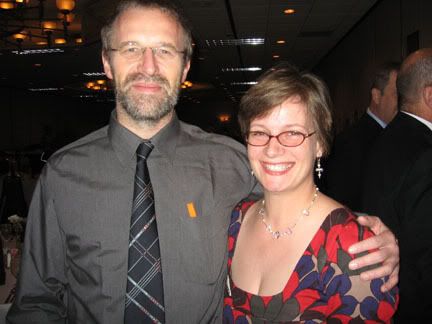 My friend and mentor, Jan Opdebeeck...
The Dutch caricaturists, including the 2007 Bronze Nosey winner, Marion van de Wiel...(l-r: Jan Ibelings, Johanna V, Johannes Lens, and Marion)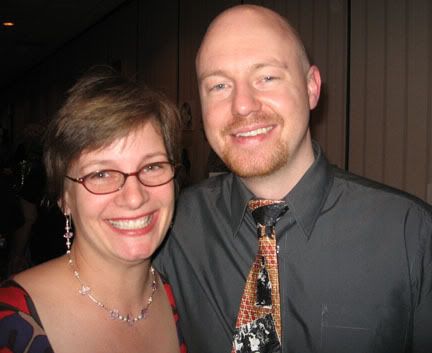 With my new friend Paul Moyse, who won the "Offending the Masters" Face-off online competition with his beautiful caricature of Rembrandt.(see it on his blog) We are waiting to see what Court's next challenge will be!
The Amazing Marlo won two awards this year, 3rd place "Best Color", and the "Guest of Honor" award. Dan Adel chose three artists he felt were uniquely original and Marlo and Lar were two of them. Here she is with 2nd place finisher Dan Ginter and Kage Nakanishi, who won both "Best Color" AND the Golden Nosey.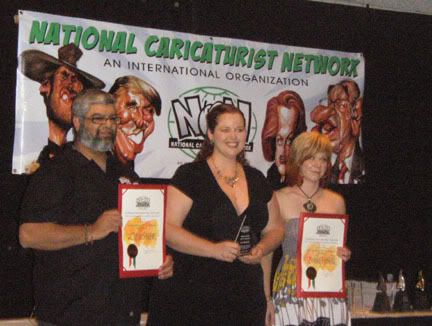 Lar also won an award for "Best 3D", along with Brooke Howell, but the 3D
Champion
is Celestia Ward, once again. Oh,
CHAMPION!!!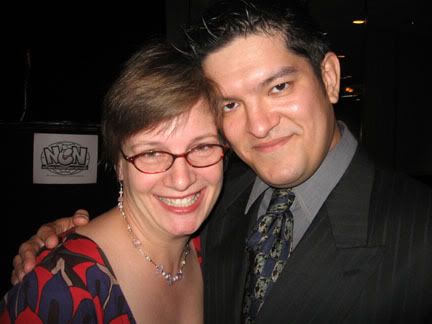 This is my dear friend Roger Hurtado, outgoing president of the NCN, who has put alot of heart and effort into running the show for the past two years. Now he'll have more time to draw again ( and get himself a website/blog!!!)
Sam Gorrie, to her shock and surprise, picked herself up two awards, one for live retail style, and one for Caricature of the Year ( I forget what place she was, but it's still great, eh?) Here she is with fellow winners, Mean Matt Zitman, Brian Oakes, Sam, Seo Kim ( who won two awards at her first convention--she's a friend of Sam's and was also our roomie), and 2007 Silver Nosey winner Glenn Ferguson.
Here is Jan accepting his award for "Best Portfolio" from Court Jones.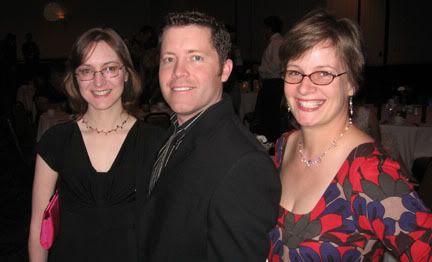 Another artist I am indebted to: Court Jones, with his lovely lady Debbo. Court's Face-off contests motivated me to try my hand at illustration, resulting in a portfolio of finished pieces.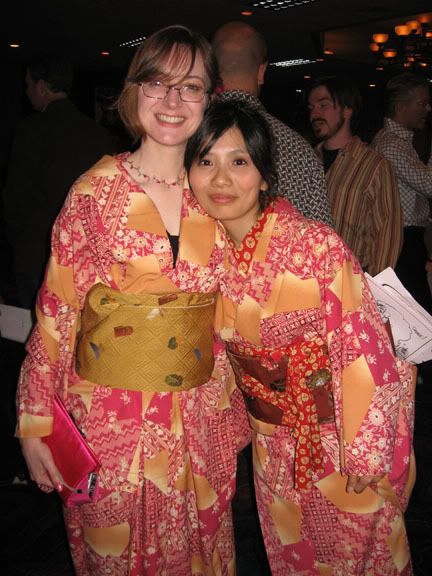 Court and Debbo both have links to the Japanese caricaturists, and Debbo was given this exquisite kimono by equally-exquisite artist Emi Sato. Isn't this a beautiful picture?
Finally, for the second year, my son has accompanied me to my favorite world, and I am glad to share it with him. ( well, except for the fact that everyone wants to draw
him
...)