...in Baltimore. This time, the rain was so light that the booth stayed at its usual location next to the famous warehouse, and we hid under the overhang when necessary.
The building, actually the former Baltimore & Ohio Warehouse, is the longest building on the East Coast at 1,016 feet long by 51 feet wide. It now contains the Orioles offices, a sports bar, gift shops, and a members-only club.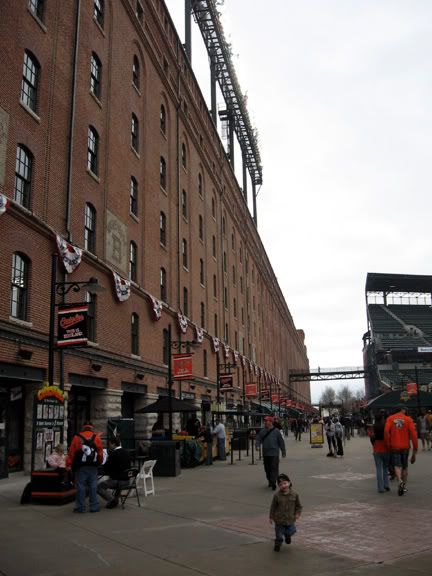 There's Rick Wright hard at work on the lower left in the photo. The white chair was my spot...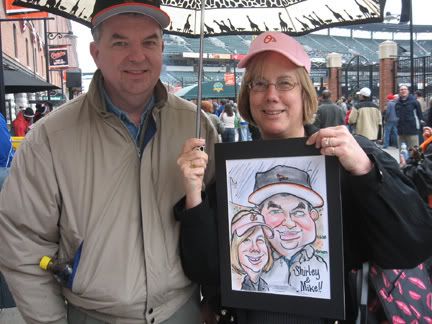 Here's a baseball-loving couple who got a caricature despite the rain; they took turns holding the umbrella over me as I drew each of them.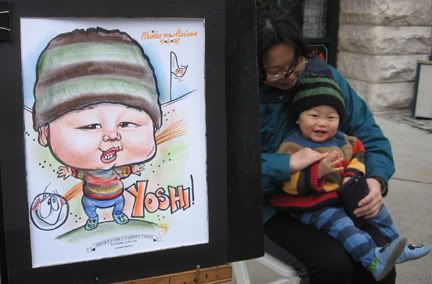 This little guy and his mom walked by several times, and I was hoping so hard to draw him--all differently-colored stripes and a smiling, laughing disposition that wouldn't quit. Luck was on my side, and this was the result.
A shy little boy consented to this photo after I drew him. He wouldn't talk to me during the whole process, but I got a big smile when he saw it---and I heard him say to his mom as they walked away, "Wow, Mommy, that's ME!"
:-)