Yesterday, I got a lot of practice drawing sports themes at a young boy's birthday party--everything from football to baseball to soccer to tennis! Here are most of the kids; as it was a small party, some even went for doubles!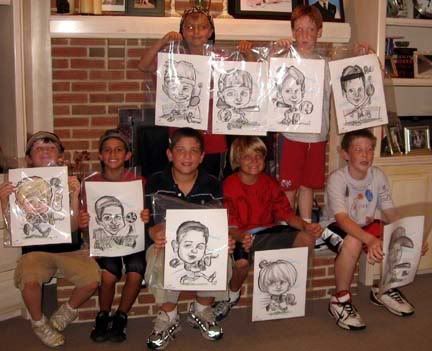 I drew but did not photograph the birthday boy's sister and her friend--they preferred the boyless princess environment of upstairs :-) Mom and Dad got one too, and I even drew the grandparents for their 50th wedding anniversary from a photo.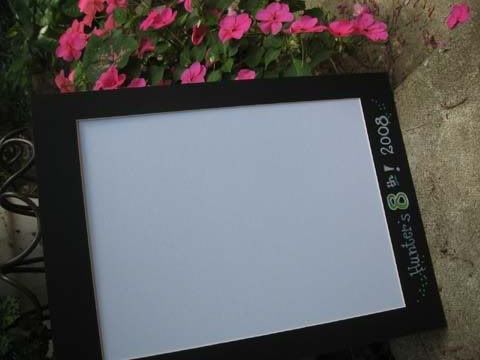 From the no-time-to-prepare-gig this past spring that taught me to carry paper and bags in my trunk, now I know to add a box of mats to my emergency gig supplies. This would have been the first gig that requested them---and upon arrival yesterday, I realized the personalized mats I had made for this boy were still in my studio!!! No harm done, they'll be mailed tomorrow, but lesson learned!
Update, 8-6-08: I received a very happy thank-you note from the client, and she also posted a wonderful positive feedback on my Gigmasters page, as this was my first gig through them since joining a month ago...
Dear Emily,
Thank you for taking the booking! We all enjoyed watching you draw all of us. The kids are still talking about you and their caricatures!
I will keep you in mind for our Christmas gathering if you are available. It would be a great gift for the clan. I have already raved about you to several co-workers and friends. Many thanks for helping make Hunter's day special!
Thank YOU for having me!