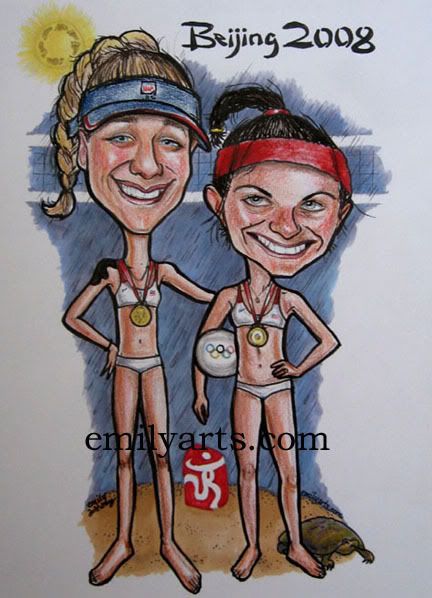 My fiance has run the mobile Jumboscreen on the AVP Pro Beach Volleyball tour for the last four years. As a result, he has seen alot of the sport, (and it IS a grueling sport, despite what they wear) and of its stars, including Kerri Walsh and Misty May-Treanor. Usually, every year, I visit him on some stop of the tour and I've met Kerri and Misty, too. In fact, on one visit to California, I met Misty and watched her play on a Sunday, flew home on Monday, and on Tuesday saw her husband Matt Treanor catch for the Marlins vs. the Phillies while caricaturing at the game! They are both more than gracious to fans, so I decided to caricature them as a gift on winning the gold in Beijing!
John was able to present them with their own framed, matted version yesterday, at their first tournament home since the Olympics. He told me they were both very happy with it! ( Kerri is holding the version they signed for us.)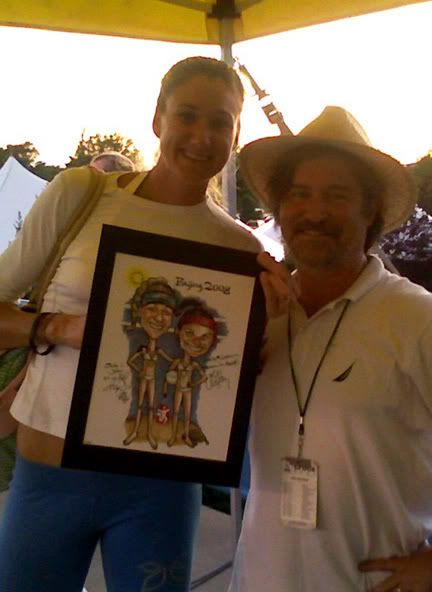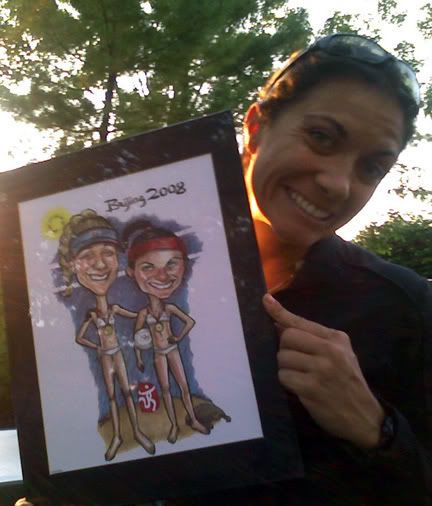 The little sun with the golden feet above Kerri's head is a pun on her nickname- "Six feet of sunshine" while Misty's super-wrong nickname is "Turtle"--especially now that she'll be one of the contestants on "Dancing with the Stars"!
I decided to use markers and artstix for this piece, they each have a copy.