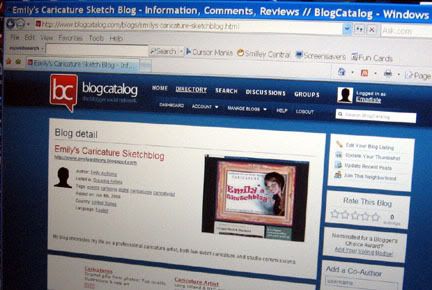 In between gigs and digital commissions (several in the pipeline that can't be posted yet) I came across this social blogging utility/directory. This is the blog topic I have not yet really explored or quite understand, for that matter: how to make my blog more accessible to search engines, or the RSS feed, or other
things like that. The end goal is to market my caricatures, and comprehending the techno-stuff isn't as fun, but has to be done...
Anyhow, I joined
www.blogcatalog.com
so I will be learning that as I go. I also recently joined Facebook, which is not so much business-oriented, but enjoyable for the 'graffiti' application where I can post doodles on my friends' pages!